14-15 October 2021
Project coordinator TUE and project partner VERT represented the IDEALFUEL consortium at the 5th H2020 Biofuels workshop which took place online on 14-15 Oct 2021.
The workshop gathered on-going H2020 projects on biofuels with the aim to introduce project partners to each other, exchange experiences and information, and plan future joint activities and events.
The IDEALFUEL coordinator presented ongoing IDEALFUEL activities and preliminary results along with the overall project objectives and concept. The workshop was concluded with two interactive sessions to identify potential synergies and overlaps between the projects and opportunities for future collaborations.
We look forward to future interactions with the other H2020 biofuels projects!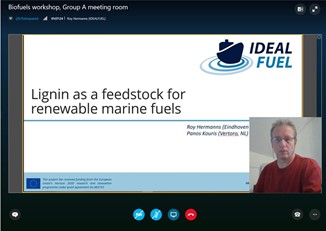 Image: Project coordinator Roy Hermanns presents the IDEALFUEL project at the online 5th H2020 Biofuels workshop.