30-31 March 2022 in Nantes, France
Partner GoodFuels has participated in the Bio360 Expo on 30 and 31 March 2022. The Expo was hosted by Bees and took place in Nantes, France, with an option to participate online.
The Bio360 Expo has been set up to serve the global effort to preserve our planet by accelerating the bio-transition. It was an international place of meeting for people and organizations who share a dedication to this mission and who have or wish to nail their colors to the bio-transition mast. The event elaborates on three main topics, namely Carbon market and utilization, bio-based materials and bioenergy and intermediate energy carriers. Bio360 Expo is the place that strives to bring all this together and to serve the transition to a new bio-age where future generations can continue to thrive, sustainably.
Felipe Ferrari, Project Researcher at GoodFuels, attended the event as R&D lead, sharing GoodFuels' vision, remarks and ways during market development for alternative sustainable fuels.
The IDEALFUEL project was highlighted during Felipe Ferrari's presentation about GoodFuels and sustainable fuels in marine sector titled as "Setting Sail for Zero". IDEALFUEL was an example on innovation and collaborative effort on sourcing expansion of sustainable fuels for marine sector.
Vertoro, one of IDEALFUEL partners, was also speaking at the same section of GoodFuels. IDEALFUEL was joined by other successful EU H2020 projects during the expo. An overall of 7000 till 8000 participants from 35 countries participated in the event.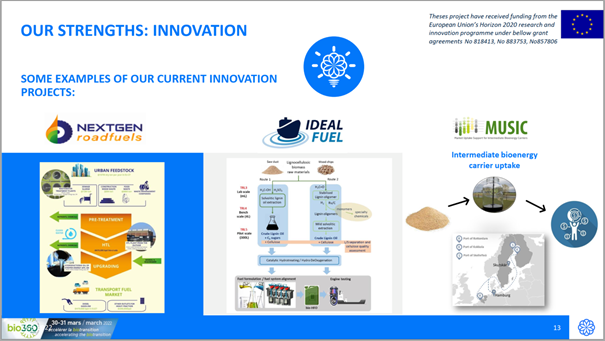 GoodFuels PowerPoint slide used during the Bio360 expo