18-20 October 2021 in Valencia, Spain
Partner CSIC has organized and hosted the 2021 Meeting of the Spanish Catalysis Society (SECAT) from 18th-20th October 2021.
The favorable pandemic indicators have enabled the celebration of this meeting in a presential modality on the Campus of the Polytechnic University of Valencia (Spain). The central topic of the conference were New Challenges for Catalysis in Chemistry, Environmental Science and Energy. The meeting brought together 300 attendees from Spanish research institutions and abroad.
Catalysis research within IDEALFUEL was represented at the meeting with the contribution entitled "The role of surface Lewis aid strength in catalytic lignin reductive depolymerization on oxide catalysts for marine biofuel production" and presented by CSIC's postdoctoral researcher Sebastian Llopis. This paper discussed the latest results in the hydrodepolymerization and hydrodeoxygenation of lignin oligomers in methanolic media. The contribution, which was based on results obtained with overlay oxide catalysts developed by CSIC and applied on lignin feedstocks provided by Bloom, delved around the role of surface Lewis acid strength as a key design parameter for solid catalysts affording high yields to liquids alongside high depolymerization degrees under remarkably mild hydrotreating conditions. The contribution triggered interactions with other researchers who share interests in the development of catalytic lignin valorization routes.
Excellent scientific contributions and firm sanitary measures made this reunion of the catalysis community a success.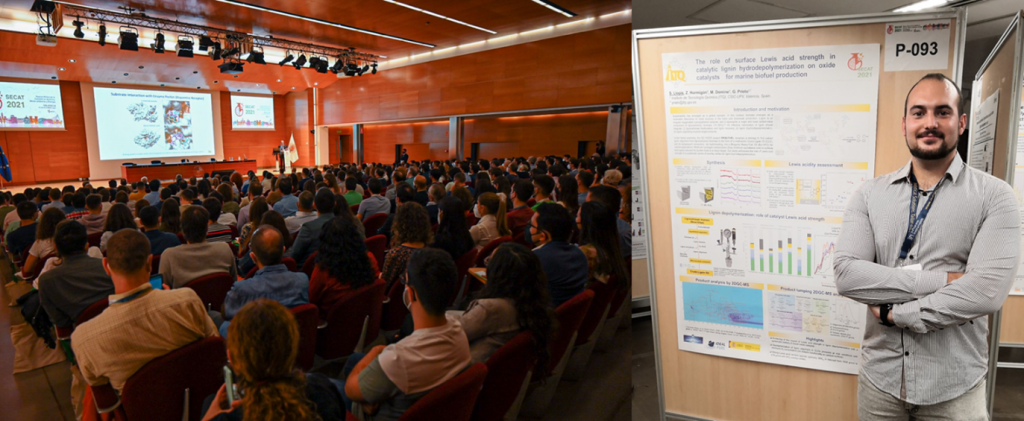 More information about the conference can be found here or on our website.