9-11 May 2022 in Noordwijkerhout, The Netherlands
Coordinator TUe has participated in the Netherlands' Catalysis and Chemistry Conference (NCCC) from 9 till 11 May 2022. The conference was hosted by NH and took place at the Leeuwenhorst in Noordwijkerhout (The Netherlands).
The NCCC offered a unique, international forum to exchange innovative ideas between academic and industrial scientists in a broad area of catalysis and chemistry research and technology.
During the conference, Alexandra Radu of TUe presented a poster to display the results on mild hydrodeoxygenation of lignin feedstocks towards a marine fuel employing non-precious metal catalysts. The displayed results include 2D-NMR, GPC and elemental analysis to get an overview of the degree of depolymerization, as well as oxygen content. Aside from IDEALFUEL, other EU H2020 projects working on alternative fuels took part, such as the EHLCATHOL project. Additionally, members from the Inorganic Materials and Catalysis group at TUe attended the conference. An estimation of 500-800 people attended the conference.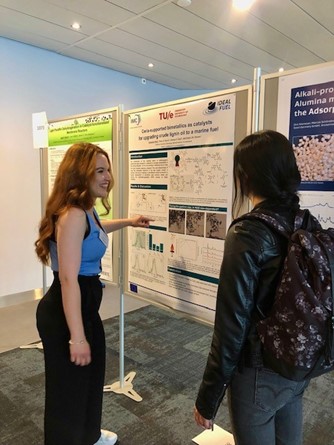 Alexandra Radu of TUe presenting the IDEALFUEL poster at the NCCC
More information can be found in our event announcement or the website of NCCC.